The Henderson Difference
Our process for discovering and managing investment properties is unlike any other, offering a comprehensive and tailored approach that simplifies every step of your real estate journey.
Let's delve into the intricacies of our unique process.
To begin with, we leverage our proprietary software, a powerful tool that swiftly identifies potential property matches perfectly suited to your investment goals. These matches are promptly sent to both you and your dedicated Henderson agent, ensuring you stay ahead in the property hunt.
Once we've identified the ideal property, we step in to help you acquire it. Our seasoned professionals negotiate the purchase on your behalf, and we present you with a range of funding options to ensure a seamless and financially optimized transaction. We understand that successful real estate investing starts with a solid acquisition, and we're here to make it happen.
But our assistance doesn't stop there. We understand that maximizing your investment's potential involves more than just acquisition. We guide you through the renovation process, overseeing upgrades and repairs that not only enhance the property's curb appeal but also boost its rental income potential. Our goal is to transform properties into valuable assets in your portfolio.
Once your property is ready, we take charge of the next phase, listing it for rent on the market. Our marketing strategies ensure your property gets the attention it deserves, and we handle showings, drawing up leases that protect your interests as a property owner.
Property management is at the core of our services. We not only collect rent on your behalf but also maintain constant correspondence with tenants, ensuring their needs are met promptly. Lease renewals are managed efficiently to maintain consistent tenancy, and we handle routine and emergency maintenance to keep your property in optimal condition.
When the time comes to reap the rewards of your investment, we've got you covered. Our team can assist you in selling the property for the best possible returns. Whether you're looking to profit or reinvest, Henderson Investment Group is your trusted partner throughout every phase of your real estate journey.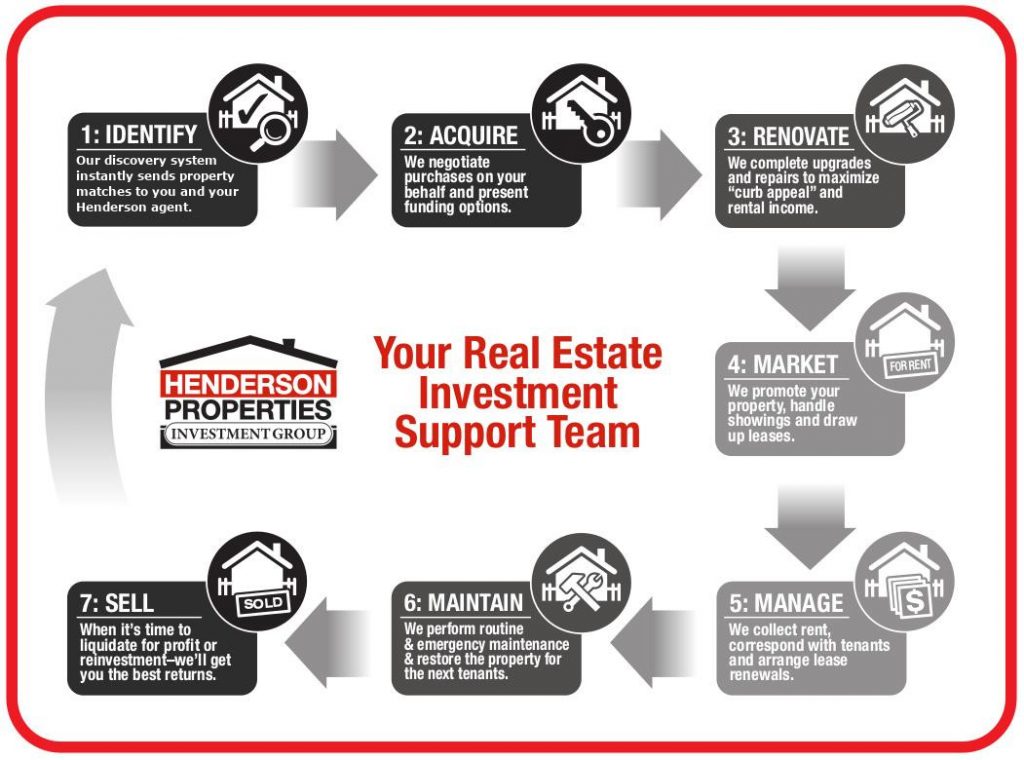 Why Work With Us?
Henderson Investment Group streamlines real estate investment for all levels of investors. Here's why we're your ideal partner:
End-to-End Excellence: We handle everything from property selection to renovations and rentals.
Data Advantage: Gain a competitive edge with rapid access to the latest property data.
Expertise Galore: Tap into our team's expertise in sales, renovations, marketing, and management, along with exclusive connections to rehab lenders.
Turnkey Solutions: We find and optimize properties for you, taking care of the details so you can focus on investing.
Dedicated Support: Enjoy the guidance of a dedicated Henderson Properties agent every step of the way.
Join the Henderson family for a profitable real estate journey that starts right here!