Investor's Paradise
Charlotte, North Carolina, is truly the Queen City. With high quality-of-life ratings, a robust local economy, and relatively affordable housing options, Charlotte is emerging as a prime location for real estate investors. The city's population has significantly grown over the past fifteen years, and demand has led to a steady rise in home prices. Yet, home prices in desirable neighborhoods remain within range for many families and young professionals.
A recent forecast by real estate giant Zillow has dubbed Charlotte the most desirable housing market for 2023. It outshines other burgeoning cities such as Cleveland, Pittsburgh, Dallas, and Nashville. Although the pace of home value increase in Charlotte is expected to slow down this year from the 11.8% spike in 2022, the following years look promising.
Why is Charlotte so attractive to home buyers and investors?
Reasonable Cost of Living
The cost of living in Charlotte is notably lower than the national average. Housing, electricity, and grocery costs are 14%, 8%, and 6% lower than the national average, respectively, making the city an enticing prospect for families, college students, and retirees.
Flourishing Job Market
The Charlotte metropolitan area offers career options across various sectors: finance, engineering, information technology, law, real estate, and customer service. Furthermore, Charlotte hosts several Fortune 500 companies, including Bank of America, Honeywell, and Duke Energy, and is the east coast headquarters of Wells Fargo. This broad range of opportunities makes it an attractive destination for young professionals.

Superior Education
Charlotte's education sector is equally impressive. The city's schools are consistently ranked top in North Carolina among public, charter, and magnet schools. Institutions like the University of North Carolina at Charlotte, Queens University of Charlotte, and Johnson C. Smith University all receive high student satisfaction rates and rank favorably in fields like engineering and education.
Alluring Neighborhoods and Suburbs
Charlotte's neighborhoods and suburbs offer diverse living experiences catering to different tastes and requirements. Whether you're searching for the urban bustle of Uptown, the academic environment of University City, the affluent lifestyle of Ballantyne, or the creative vibes of North Davidson, Charlotte has a place for you.
Rich Cultural Scene
Charlotte is about more than just work and living spaces. The city center features an array of museums, restaurants, theaters, retail centers, and local attractions. Whether you're visiting the Bechtler Museum of Modern Art, the Billy Graham Library, the North Carolina Music Factory, the Blumenthal Performing Arts Center, or the NASCAR Hall of Fame, there's something for everyone. The thriving culinary scene and nightlife in Charlotte add to the city's vibrancy, making it an exciting place to call home.
Opportunities for Rental Property Investment
With 35% of Charlotte's single-family housing occupied by renters, the city presents attractive opportunities for real estate investors. A steady influx of millennials, drawn by the city's thriving financial services industry, has led to increased demand for rental properties.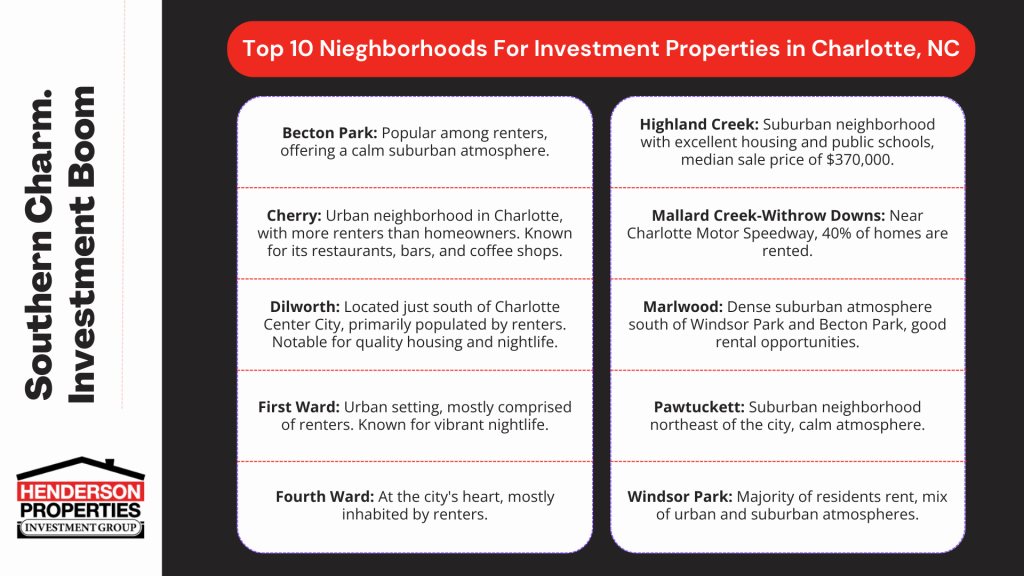 Real Estate Investment Prospects in Charlotte
Regarding real estate investments, Charlotte, North Carolina, shines as a promising market. Growing at an impressive rate, Charlotte is regarded as one of the most rapidly expanding cities in the United States, attracting thousands of new residents annually. This growth trajectory has not gone unnoticed by industry experts.
What propels Charlotte's thriving real estate market? One significant driver is the increasing demand for housing, escalating rental prices, and home values in the city. According to Zillow's December 2021 data, home values in the metropolitan area have surged nearly 26% over the preceding year. Additionally, Zumper's February 2022 report revealed a 9% year-on-year rise in monthly rents for 3-bedroom homes.
Consequently, this trend has resulted in more people opting to rent rather than buy homes, particularly in highly popular neighborhoods such as First Ward, Fourth Ward, and Uptown, where 70% or more households are rented.
Delving deeper into Charlotte's real estate market, the city accommodates 165 neighborhoods, with property prices spanning from $305,000 to over $5 million. Let's explore ten of these neighborhoods to understand better why they stand out as promising options for real estate investment, as recommended by Redfin, Realtor.com, and Niche.com:
Becton Park: This neighborhood is popular among renters, offering a tranquil suburban atmosphere.
Cherry: This popular neighborhood in Charlotte offers an urban environment where renters outnumber homeowners. It boasts a plethora of restaurants, bars, and coffee shops.
Dilworth: Positioned just south of Charlotte Center City, Dilworth is populated primarily by renters. It is highly appreciated for its quality housing and vibrant nightlife scene.
First Ward: This neighborhood mostly comprises renters, offering an urban setting. It is particularly well-regarded for its vibrant nightlife.
Fourth Ward: Located in the city's heart, Fourth Ward is primarily inhabited by renters and is held in high regard among Charlotte's neighborhoods.
Highland Creek: This suburban neighborhood has received outstanding feedback for its housing and public schools. It boasts a median sale price of $370,000.
Mallard Creek-Withrow Downs: Located near the Charlotte Motor Speedway, this neighborhood has over 40% of its homes rented.
Marlwood: Found south of Windsor Park and Becton Park, Marlwood exhibits a dense suburban atmosphere and offers promising rental opportunities.
Pawtuckett: Situated northeast of the city, Pawtuckett provides a calm suburban feel.
Windsor Park: Here, where most residents are renters, you can experience a mix of urban and suburban atmospheres.

To conclude, Charlotte's steady population growth and flourishing real estate market position it as an attractive investment destination. The city's diverse neighborhoods offer many opportunities, each with unique demographics, home values, and rental prices.
Interested in owning a rental property in Charlotte? Contact us to speak with a local investment property advisor.